About us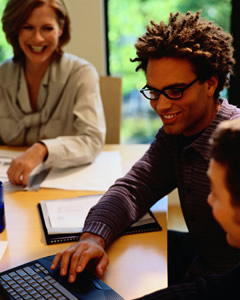 Konsultfabriken was started in 2005, with the goal of bringing openness back into the consultant brokering industry. We felt that a broker's role is to facilitate and not to manipulate the creation of the business agreement between two parties - the client and the consultant. We realised that often, one or both of these parties, were making business decisions without all the available information.
Konsultfabriken Skandinavien AB is a small but growing, professional brokering service that helps companies to find the right consultant for their needs, for both short and long term contract assignments, within the fields of:
IT
Project Management
Telecom
Technical and Engineering Services
Our focus is broad and we cover most IT and technical areas of competence. We feel that this approach is important, as our clients can have very diverse needs.
We help our clients overcome a number of operational problems:
Increase their business flexibility. Why loose an opportunity to take on a new project. The appropriate mix of your existing staff and external consultants, will still allow you to take on extra, profitable projects, without loosing them to your competitors.
Reduce the pressure of recruitment. We can provide a consultant while you are looking for a permanent staff member.
Access the power of the expert We can provide you with that expert consultant, who you do not always have a permanent need for. This may allow you to sign an important new contract or overcome an existing problem on a current project.
Decrease their dependence on large consulting companies Unfortunately, at times, these companies can have high prices, due to their large overhead costs.
At Konsultfabriken, we instantly increase your sub-contractor base by introducing you to our comprehensive and growing, consultant database. We strive to attract the best independent consultants and small consultant companies into our network. This is a type of consultant that many clients find difficult to access. We help open a door to this group of flexible and price conscious experts.
How we work
A Broker is: "A person or company that acts as an independent intermediary between two parties in negotiating an agreement."
By this definition, our role at Konsultfabriken is to help two parties, our clients and our consultants to come to a business agreement. With our help, this process becomes simple.
The expectations of our clients
That they have all the information to make the right decision.
That the consultant has the right technical, operational and social competence.
That they do not pay any more than they have to obtain the required skills.
That the administration process, including agreements and invoicing, is simple.
That the quality of the service provided is assured for the lifetime of the assignment.
The expectations of our consultants
That they have all the information to make the right decision.
That they find an interesting assignment, that is appropriate to their skills and experience.
That they receive payment matching the complexity of the assignment.
That they feel supported during the lifetime of the assignment.
Our role
Konsultfabriken acts as a sales force for our consultant database and as a business advisor to our clients. In this role it is important to maintain our objectivity and transparency. Through a selection process, that can be tailored specifically to meet our client's needs, we will present the right consultants to match the complexity of each assignment.
We will not inflate the price that a consultant is willing to work for. It is their business decision.
At the same time, we help our clients understand the correct value of the services being offered by the consultant, based on the consultant's level of expertise and current market price. This allows our clients to make their business decision.
This process best supports a successful outcome for each assignment. Both parties have entered into an agreement based on the terms which best meet their needs and current situation.
Throughout this process we are completely open in regard to our commission level.
Would you like to know more or do you need help in finding a consultant? Contact us.