Our values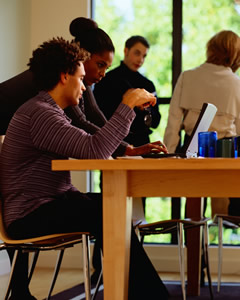 Openness
To make a business decision, both parties need good information. We have found in the IT brokering industry that openness is often in short supply. We believe that both parties should know what commission the broker charges. We believe that the consultant should know what the final hourly price is to the client. We do not believe in forcing the consultant down to a low price and in the same negotiation, forcing the client to pay a high price.
A lack of openness can result in frustration and possibly a reduction of effectiveness during the time of the assignment.
Price
As in any negotiation, many factors can affect the price. As in any business, the price a consultant is willing to offer their services for can be influenced by many factors. For example:
The length of the assignment.
An urgent need to find a new assignment.
How interesting the assignment is.
Whether the assignment is good for their career development.
Alternatively the client can also influence the price. For example:
They have an urgent requirement.
They are seeking a consultant within a competence area where there is a shortage of supply.
It is for these reasons that Konsultfabriken does not work with fixed prices. Our role is to facilitate the price setting process between both parties.
Customer service
As our clients' time is important, we aim to respond to all consultant requests in a timely fashion. We also strive to keep our consultants updated on the progress of their response to a client's assignment request.
We maintain a low cost base and support our clients with a simplified administrative process for agreements and the reporting consultant hours. This allows us to present one invoice or separate invoices for the consultants that you have on assignment from us. It also allows us to take care of the administration of consultants who were not assigned work through Konsultfabriken. Our aim is to reduce your administrative workload when using external consultants.
Quality
Our quality assurance process begins with the initial discussions with our client in regard to the assignment and is only complete when we receive the final feedback from the client on the overall performance of the consultant.
Our process includes helping the client correctly define the assignment; conducting consultant interviews; consultant and client follow up during the assignment and obtaining final feedback on completion of the assignment. We ensure the correct reporting of consultant hours and activities.
We also act as an external resource to our consultants during their assignments, so as to ensure a successful outcome of the work required.
Would you like to know more or do you need help in finding a consultant? Contact us.